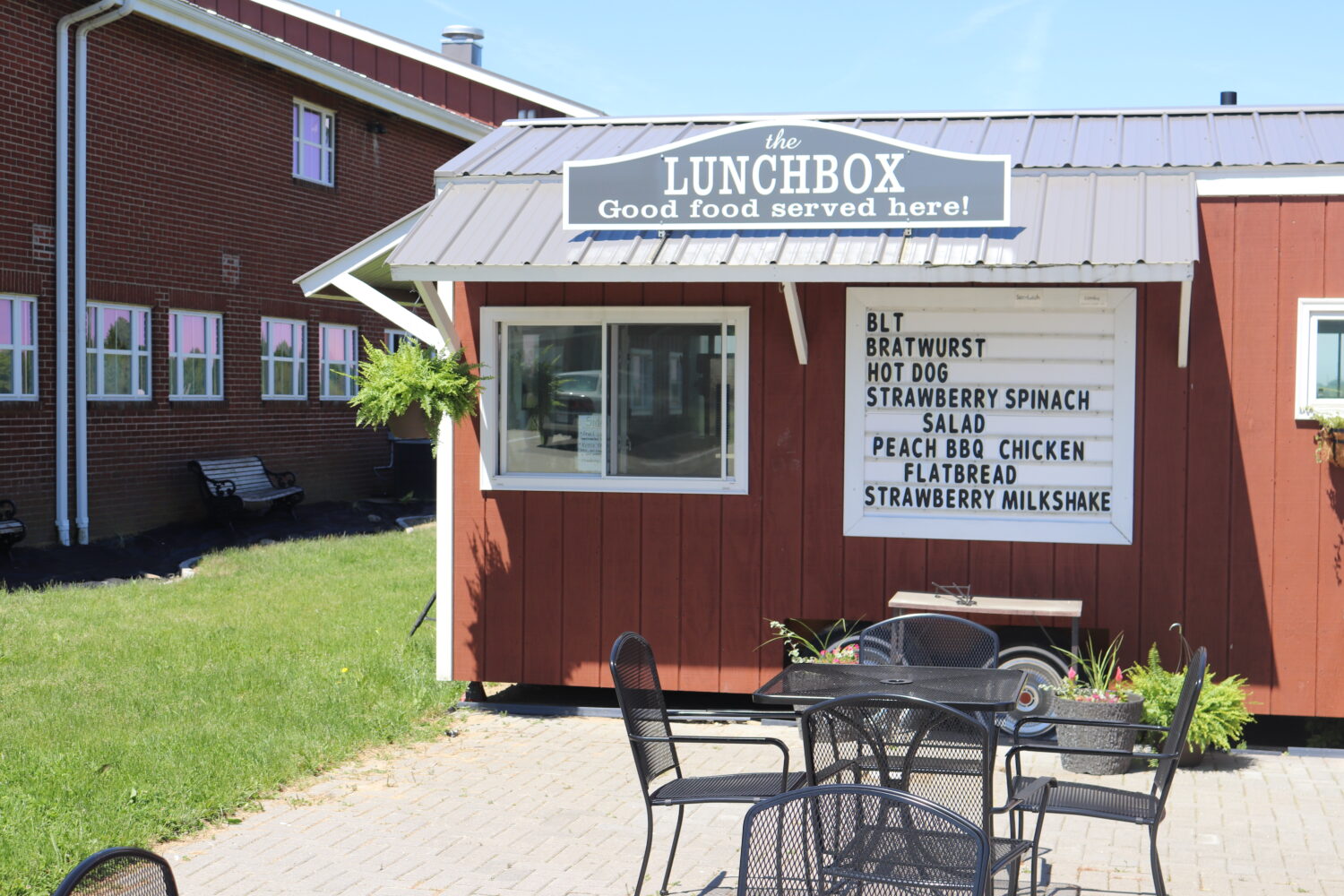 The Lunchbox is now open for the season–now including breakfast!
Hours
Wednesday through Sunday, 8am-2pm.
Plus Fridays, 5:30pm-8:30pm
Specialty Sandwiches
Fresh Tomato and lettuce with bacon and your choice of mayo or basil mayo on homemade bread
$7.00
Bratwurst
With your choice of toppings
$5.00
Hot Dog
Jumbo All Beef Hot Dog served with your choice of toppings
$4.50
Cheddar Cheese, zucchini relish, onions, bacon & tomato on homemade bread
$7.00
Turkey Pretzel Club
Turkey breast, bacon, cheese, lettuce, & mustard on a pretzel bun
$6.50
Chipotle Melt
Chicken, bacon, cheddar cheese, caramelized onions, with chipotle mayo
$7.00
Southern Peach BBQ Flatbread
Grilled chicken, cheddar cheese, & spinach. Finished with our Southern Peach BBQ Sauce
$6.50
Deli Sandwiches
Pesto Turkey
Turkey deli meat, provolone cheese, and lettuce with a pesto mayo on homemade bread
$6.00
Cranberry Orange Club
Ham, turkey, bacon, cheddar cheese, and lettuce with an orange cranberry sauce on a croissant
$6.00
Italian Sub
Ham, salami, pepperoni, provolone cheese, tomato, and lettuce with our homemade Italian spread on a hoagie bun
$6.00
Signature Salads
Strawberry Spinach Salad
Spinach topped with strawberries, sliced almonds, feta cheese, and your choice of bacon or chicken
$7.00
Market Salad
Spring mix topped with chicken, red grapes, goat cheese and candied pecans
$7.00
Breakfast
BLTE
Bacon, lettuce, tomato, egg, Monterey jack cheese, on homemade bread and finished with garlic aioli. Add avocado for +$0.50
$7.00
Market Breakfast Sandwich
Pork sausage, sharp cheddar cheese, egg, fresh arugula, and apple butter sandwiched between a flaky buttery biscuit
$5.75
Elevated Bagel Sandwich
Bacon, egg, cheese, & avocado, on an everything bagel
$7.00
French Toast
Made with homemade bread and topped with strawberry butter. Order of 2 slices Add a side of meat (bacon or sausage) +$1.00
$6.00
Milkshakes and Smoothies
Milkshakes
Strawberry, Vanilla, Oreo
$4.50
Strawberry Smoothie
Made with our fresh strawberries!
$4.50
Combos (+ $2.50) come with your choice of applesauce or kettle chips and a drink.